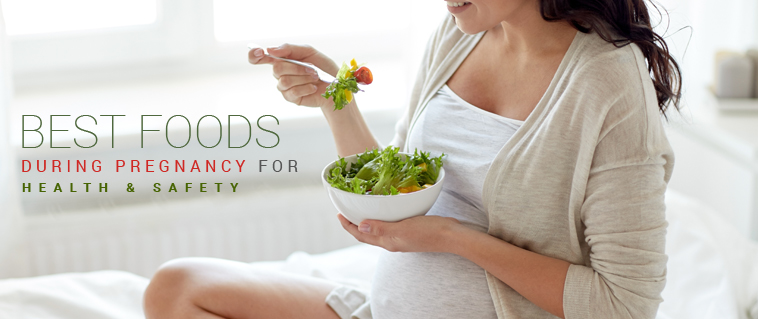 List of Best Foods during Pregnancy to Ensure Health and Safety
Pregnancy is one of the most precious events for any woman. It is also the time when you have to be more responsible and care for the life growing inside you. Pregnant women should follow a balanced and nutritious diet. According to private gynaecologist in London, you should have calcium and protein everyday during pregnancy to help the baby in your womb develop bones and tissues. Expecting mothers also require extra dosage of folic acid to protect babies from birth defects. Iron is another crucial factor during this period to include in your diet, as it helps the formation of the red blood cells (RBC) to supply oxygen to the baby in the womb.

Our best private gynaecologist in London suggest the best foods during pregnancy to ensure health and safety for both the mother and child.
Whole grains: Breads and cereals baked in whole grains are a rich source of most of the essential minerals and folic acid. As compared to rice and white bread, these have more fiber. Considering these facts, you must include oatmeal, brown rice, whole-wheat pasta and other whole grains products in your breakfast, lunch and evening meals. Whip up a sandwich, or switch up your toast for whole grain bread in the morning, but make sure to include whole grain in one form or the other every day.

Fortified breakfast cereal: A reputed private practice gynaecologist, based in the city, suggest including fortified breakfast cereal in the list of best food during pregnancy. You should have at least 400 micrograms of fortified breakfast cereal every day. This can be consumed through fortified foods or vitamin supplements. In addition to that, do not forget to have about 200 micrograms of it through natural fruits and vegetables, like asparagus and black eyed peas.

Eggs: Eggs are one of the best sources of amino acid that your baby needs. Moreover, eggs provide about a dozen minerals and vitamins, including chlorine, which helps in mind development of your baby. But, do not consume raw or undercooked eggs during those days.

Berries, bananas and seaweeds: Raspberries, blueberries, blackberries not only taste great, but also provide necessary nutrients for both the mother and the baby in her womb. Bananas are a good source of potassium and help to overcome pregnancy fatigue. You can slice up banana in a cereal or whip it up with yogurt, berries and orange juice. Edible seaweeds, on the other hand, are rich in folate, potassium, fiber and vitamin C.

Fishes: According to the consultant gynaecologist Mr Hikmat Naoum, fishes are a great source of Omega-3 fatty acid, which helps in developing brains and eyes of your yet to born baby. Moreover, fishes also provide vitamin B and protein, which are essential for overall physical development of your baby in the womb. Sea fishes like salmon provide mercury and can be grilled, broiled or cooked in a number of other ways to suit your taste bud. Try having at least 12 to 15 ounces of sea fishes every week.
In addition to the foods mentioned above, do not neglect fresh, green, leafy vegetables, which are rich in vitamin C, vitamin A and vitamin K. You should also have nuts on regular basis. Nuts, like almond and walnuts are rich source of minerals, vitamin C, fiber and protein.